Guide d'installation pour les maîtres de jeu

En tant qu'hôte, vous avez le rôle principal dans toute cette expérience. Des gens comme vous font en sorte que cette œuvre d'art se transforme en un incroyable jeu d'évasion, et nous sommes là pour vous donner quelques conseils sur la meilleure manière d'y arriver.
The set-up has few steps, which take no more than 15 minutes of preparation. Of course, if you're willing to put in more effort, you can make it even more amazing.
P.S. Maybe you want to team up with your kids, instead of just being their moderator. Well, this basic setup doesn't contain any spoilers so you'll be able to dive into this amazing story and play along with the kids. Trust me, the adults enjoy solving the game tricks and mysteries as much as their kids. But remember, sometimes kids can be smarter… so be prepared to avoid getting embarrassed.
Follow the next easy steps to bring the excitement of this escape game right into your home: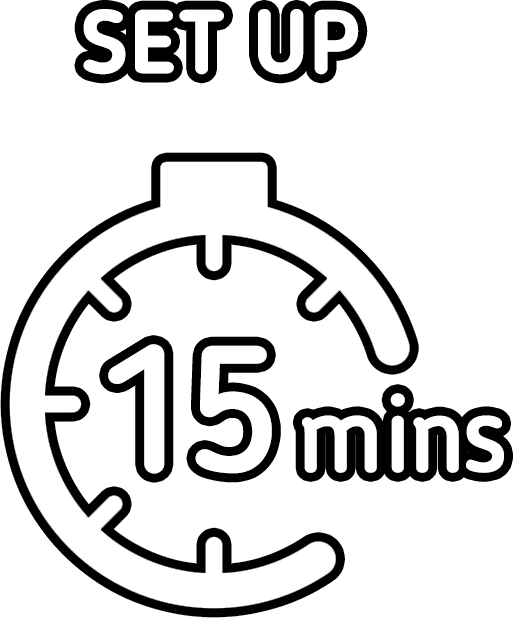 Step 1. Download and Print
Il y a trois façons de télécharger votre kit de jeu :
After the purchase, you receive an email from hello@escaperoomgeeks.com with the download link.
Vous pouvez le télécharger sur la page de confirmation d'achat ou
In My Account page
Open the PDF file "THE GAME – Professor Swen's lab" and print it on a regular home/office color printer.
Go to printer properties and select:
Letter or A4 paper size,
Fit to paper,
One-sided printing,
Color mode: Color (This game can be printed in Black & White, but the whole experience is much better when it's printed in color!)
Vivid photo (optional)
For better feeling use thicker paper, but any paper will get the job done!
Professor Swen's lab is played as one team (2-5 players), or by multiple teams – like a competition.
If there are more than 5 players, don't worry, just divide them into teams and print out one copy for each team. This way they can compete against each other, and the first team that manages to shut down the machine wins it all.
2-5 players – print 1 copy
6-10 players – print 2 copies
11-15 players – print 3 copies and so on
N'oubliez pas que vous pouvez imprimer le jeu autant de fois que vous le souhaitez. Si vous êtes enseignant par exemple, cela signifie que vous pouvez utiliser ce jeu pour chaque génération de votre classe et devenir le professeur le plus cool de votre école.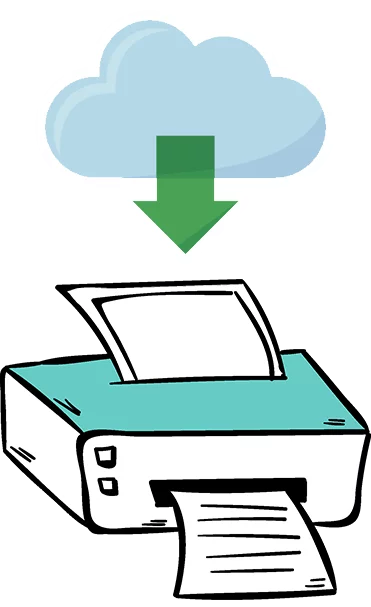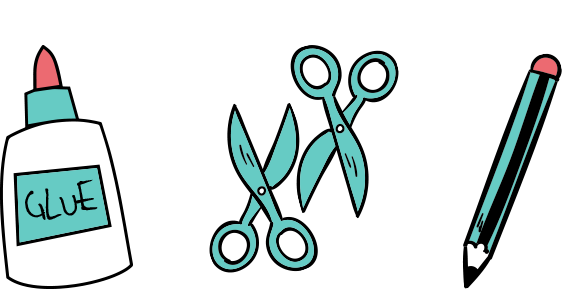 Presque tout le monde a déjà ces objets chez lui, et c'est pourquoi il est très facile de commencer à travailler au jeu d'évasion dès que vous achetez le jeu. L'un de nos objectifs était de rendre ce jeu accessible à tout moment depuis le confort de votre maison et d'être jouable en utilisant ces objets de tous les jours, tout en respectant un budget.
2. Separate the 3 challenges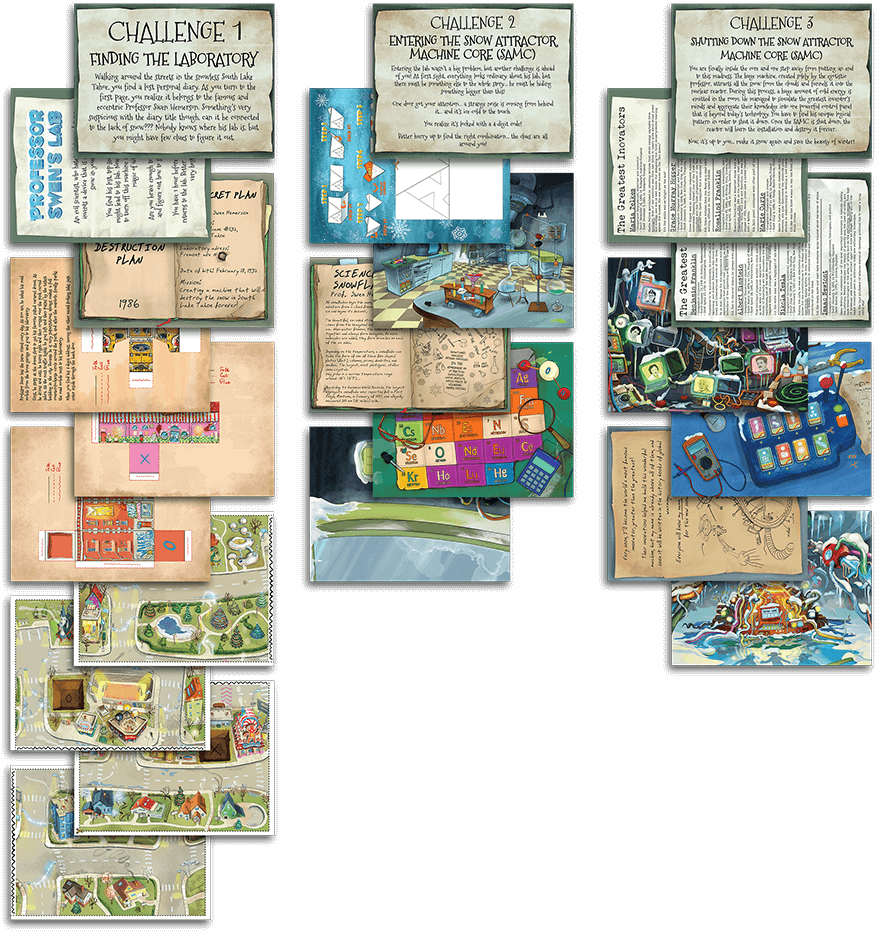 3. Choose an empty table​
On the table, put:
Le 1er défi
The paper glue
The 2 pairs of scissors
Le crayon.
"Professor Swen's lab" requires players to solve 3 challenges. The easiest way of orchestrating this game is to start with the first challenge, and when you/they solve it, just continue to the second one, and finally the third one.
4. Download and open the mobile app
Using the mobile app will make your adventure much more fun and easy to follow. You'll be able to get hints, play music, listen to voice intros and check the team's progress. Also, the app gives you an opportunity to play along with your kids.



*if you don't want to use the app you can always use the solutions guide included in the download files (spoiler alert).
…. ET C'EST TOUT, C'EST DU GÂTEAU.
Les personnes créatives n'aiment pas les règles, elles jouissent de la liberté de choix.
C'est pourquoi nous avons créé ce jeu avec seulement quelques règles, et tout le reste est le fruit de votre imagination et de celle des joueurs.
Players have 1 hour to shut down the machine!
They can use a maximum of 8 hints!
They can stop the time only once for 5 minutes!
After trying 3 wrong codes they lose 1 minute on each subsequent wrong code.
Même ces règles peuvent être modifiées et vos invités s'amuseront toujours beaucoup. N'ayez pas peur d'expérimenter, il suffit de mettre en place le jeu et de l'apprécier.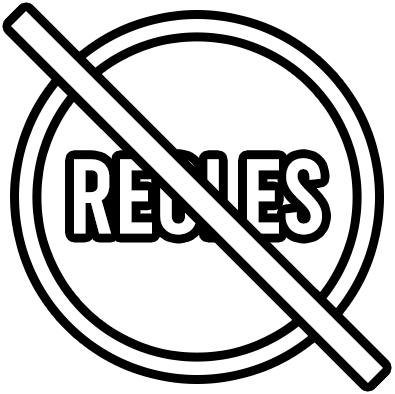 You should know that an Escape Room game doesn't start when players begin solving the challenges. Actually, the experience starts a bit earlier, with a short intro – a tool that a Game Master should use to increase the player's immersion into the story. That's why we created the mobile app – it adds a lot to the whole experience.
If you want to go 100% off-screen, which means not using the mobile app, just read out load the storyline to the players. Spice it up with a dramatic voice or, even better, use some of your acting skills. Well, it's all about the fun, isn't it?
Envoyez des invitations aux joueurs
We have created editable invitations. Change the name, place and date of your party and send it to your guest via Facebook, Instagram, email etc. 
If you want to keep the old-school style, print out the invitations and send them via local post office.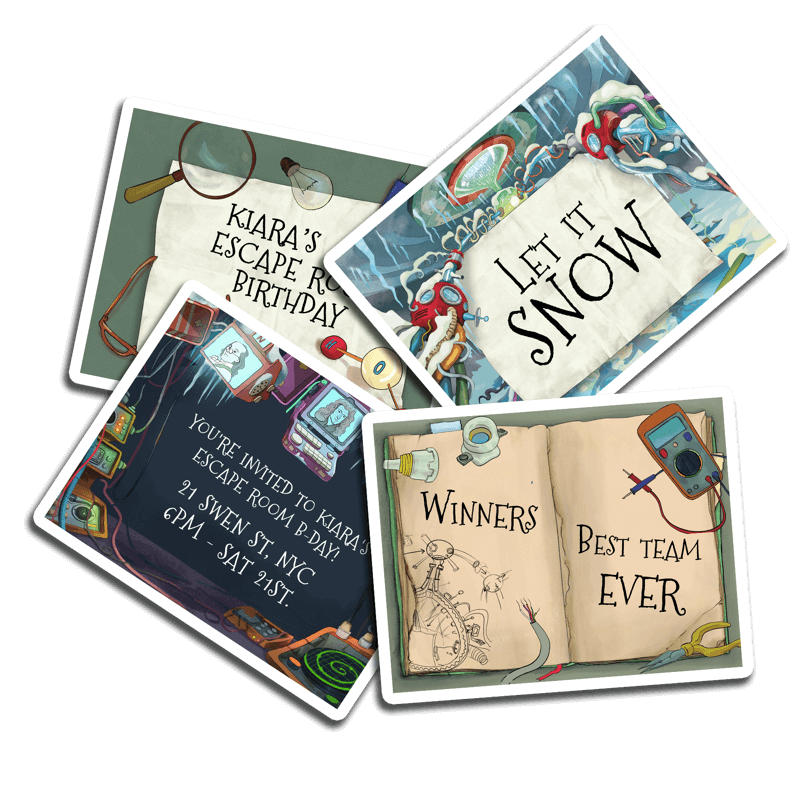 Créer une meilleure ambiance
Baissez la lumière et allumez des bougies.
Get toys/items that suit the storyline
Placez des affiches dans la pièce. Vous les trouverez dans le kit de jeu.
Servez des boissons et des collations. Le jeu a meilleur goût de cette façon!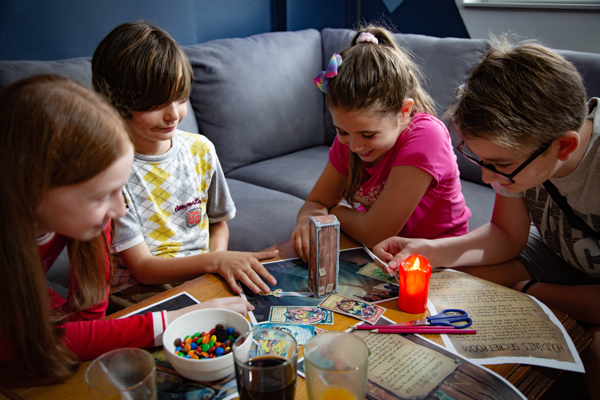 With a little more effort, you can make this game even more amazing. 
For example you can put the 2nd and 3rd challenge and the congratulation sheet into three different boxes and seal them with padlocks.
Hide the 3 boxes in the room, and place the first challenge on the table. These combination locks bring new dimension of experience. As the players try to physically open them, the intensity of the game slowly increases.
You can even put the challenges in four different rooms and lock the doors with the padlocks. Don't be afraid to experiment with your creative ideas, because there isn't much space for error, but there are far more opportunities to make it amazing.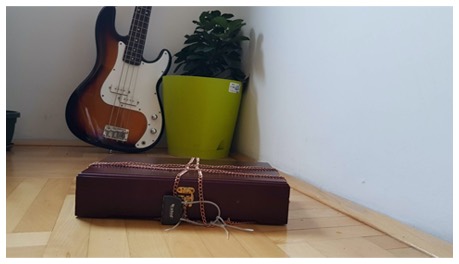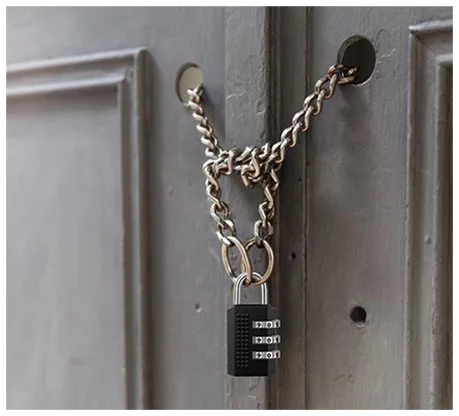 You should get the players involved even after they finish the game by making a short debrief. At this point the kids are having a blast, they feel smart, accomplished and they want to talk about the game. Go through the puzzles, ask them what they found the most interesting, which was the hardest challenge etc. Sharing these impressions brings the game full circle, making the experience more complete and fun. Better yet, make a themed photo with all the posters included in the game kit and post it on your social media profiles.