Guide d'installation pour les maîtres de jeu

Hello parents, teachers, and other creative people ☺
We are so glad that you chose this game, because we truly believe your kids are going to have a lot of fun with it. Preparing the game can be as much fun as playing it, and this guide will help you create the most amazing experience for your children.
You are going to be directly involved throughout the game while interacting with the whole group.
Actually, you are going to have two roles: 
1. Installer le jeu, et
2. Jouer le rôle de Lau Kamau – le gentil gardien géant.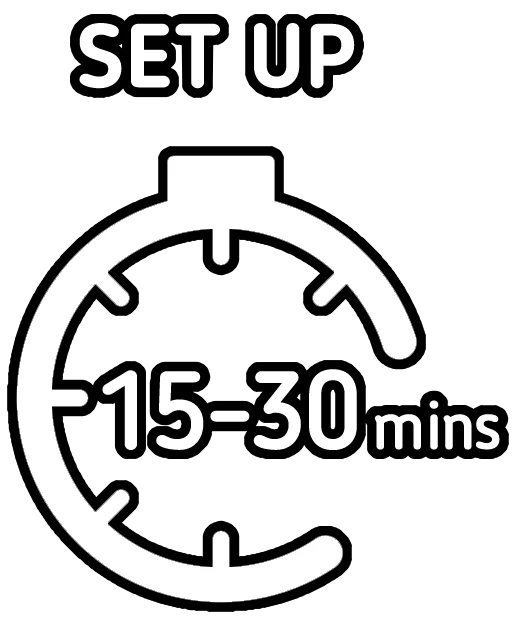 This role will allow you to guide the kids, monitor their progress, and help them if necessary. And because we made a special guide for you, your job will be a piece of cake! But first let's start with the setup!
The basic setup will take around 15-30 minutes, but if you're willing to put in more effort, you can make it even more amazing (bonus: make it more special).
So let's start!
ÉTAPE 1: TÉLÉCHARGER ET IMPRIMER
Il y a trois façons de télécharger votre kit de jeu :
Après l'achat, vous recevez un courriel de info@escaperoomgeeks.com avec le lien de téléchargement.
Vous pouvez le télécharger sur la page de confirmation d'achat ou
In the My Account page.
Open the PDF file "THE GAME" and print it on a regular home/office color printer. Go to printer properties and select:
Letter or A4 paper size
Fit to paper
One-sided printing
Color mode: Color
For a better feeling, use thicker paper, but any paper will get the job done!
"Wooka Booka Island" is played as one team (2-5 players), or by multiple teams – like a competition.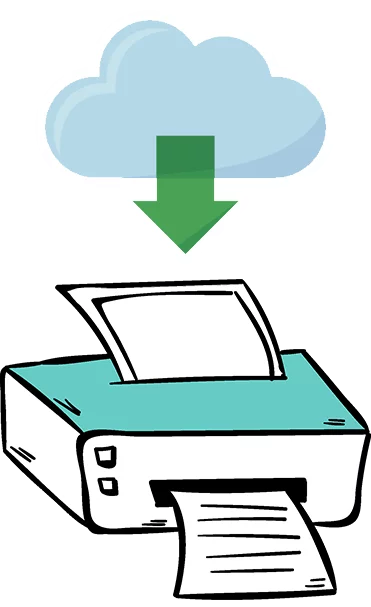 If there are more than 5 players, don't worry – just divide them into teams and print out one copy for each team. This way, they can compete against each other, and the first team that manages to find the long-lost treasure wins it all.
2-5 players – print one copy
6-11 players – print two copies
12-17 players – print three copies, and so on
Remember that you can print the game as many times as you want. If you are a teacher, for example, it means that you can use this game for every class and become the coolest teacher in your school.
ÉTAPE 2: ASSUREZ-VOUS DE PRENDRE:
Presque tout le monde a déjà ces objets chez soi, et c'est pourquoi il est très facile de commencer à préparer l'évasion dès que vous achetez le jeu. L'un de nos objectifs était de rendre ce jeu accessible à tout moment depuis le confort de votre maison et d'être jouable en utilisant ces objets de tous les jours en respectant un budget.
Étape 3 : Mise en place du jeu
Peu d'énigmes ont besoin de votre touche finale pour devenir de merveilleux tours. La préparation de ces énigmes ne prend pas plus de 5 à 10 minutes et vous recevrez dans le kit de jeu un manuel détaillé décrivant comment le faire correctement. Vous n'avez qu'à :
2. Cut and Hide the circles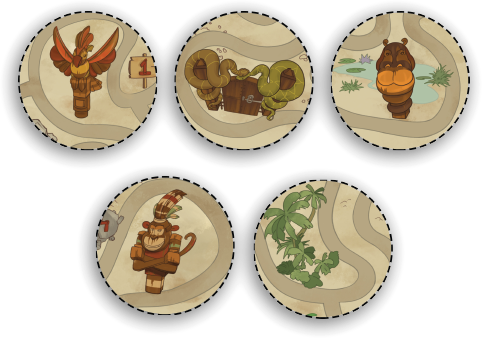 3. Separate the four challenges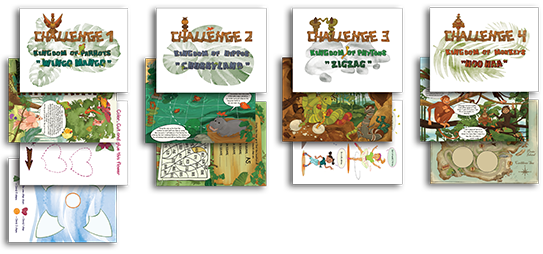 4. Choose an empty table where the game will be played!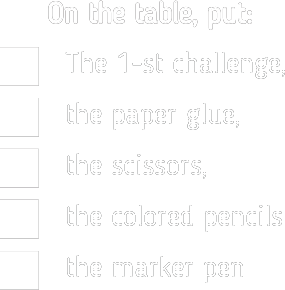 …. ET C'EST TOUT, C'EST DU GÂTEAU.
You will get more detailed information about these steps in the "Setup Guide" that comes within the game kit!
Step 4: Print or open the CHEAT SHEET
From now on, your role is to moderate the game, using the "Cheat Sheet". This guide will help you with:
Observing the team's progress
Assisting the team if needed
Explaining the game rules to the kids
Reading your lines (for the role of the giant guardian Lau Kamau)
You can use this "Cheat Sheet" directly from any device, so it's not necessary that you print it.
Step 5. When the players arrive
The Escape Room game is more than just solving puzzles or challenges. Actually, the experience very much depends on the smallest details. So in order to increase the player's immersion into the story, try spicing your lines with a dramatic voice or, even better, use some of your acting skills. Now is your chance to show off in front of the kids and establish your status as the coolest parent/teacher ☺ Well, it's all about the fun, isn't it?
You should get the kids involved even after they finish the game by making a short debrief. At this point, the kids are having a blast, they feel smart and accomplished, and they want to talk about the game. Go through the puzzles, ask them what they found the most interesting, which was the hardest challenge, etc. Sharing these impressions brings the game full circle, making the experience more complete and fun. Better yet, make a themed photo with all the posters included in the game kit and post it on your social media profiles.
Bonus: rendez le jeu plus spécial
With a little more effort, you can make this game even more amazing.
Since every kid loves surprise, we recommend you make a real treasure chest. Given that the final challenge (opening the treasure chest) is being solved by finding the 3 digit code, you can create a real treasure chest.
Take an empty cardboard box, or any kind of chest,
Fill it up with anything that will make your kids happy (lots of chocolates, jelly beans, toys, or even a birthday present),
Seal the box with a three-digit combination padlock (code 274).
This way, you increase the anticipation of what's inside the box, which brings a whole new level of excitement to the game. The kids will have greater motivation getting to the final solution and achieving the goal.
Don't be afraid to experiment with your creative ideas. There isn't much room for error, but there are many opportunities to make it amazing.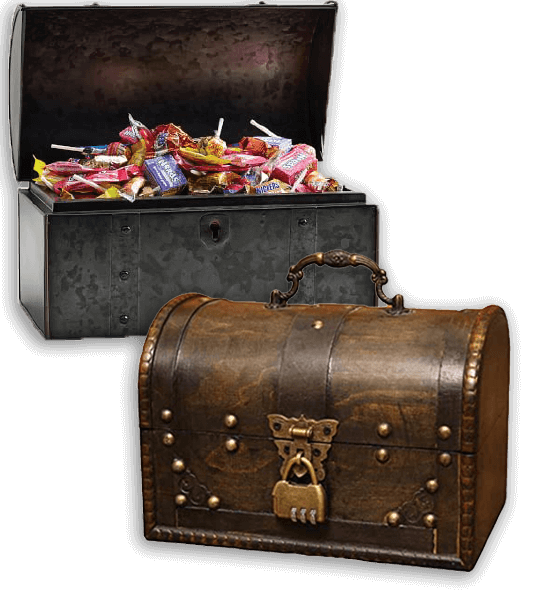 Envoyez des invitations aux joueurs
We have created editable invitations. Change the name, place, and date of your party and send it to your guests via Facebook, Instagram, email, etc. If you want to go old-school style, print the invitations and send them via the local post office.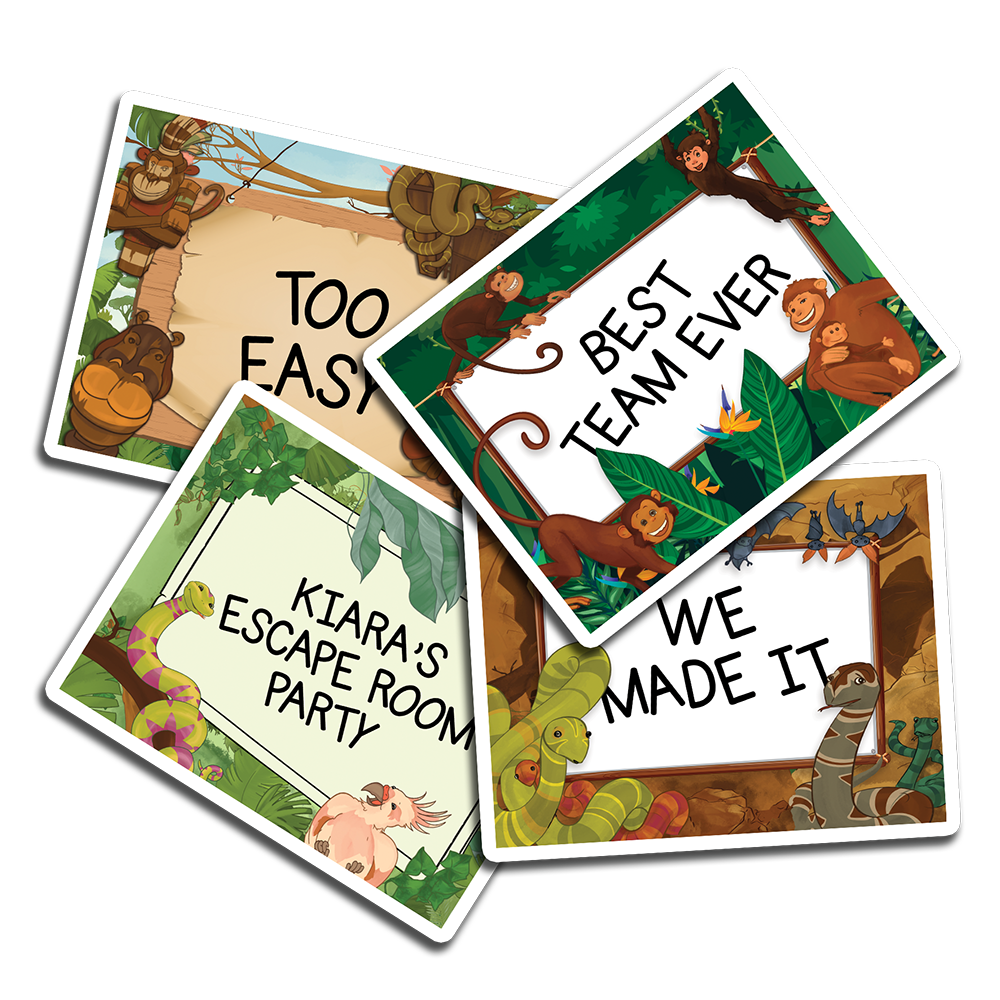 Créer une meilleure ambiance
•  Play background music from our playlist. Check out the "Wooka Booka" playlist. The music adds so much to the experience.
• Get toys/items/decoration that suit the storyline.
• Hang posters around the room. You can find them in the game kit.
• Serve some drinks and snacks. The game tastes better this way!