Experience the ultimate escape room adventure with the Legacy Edition bundle. Get instant access to all of our printable escape room games, and enjoy free access to every new game we release. Start your escape room legacy today!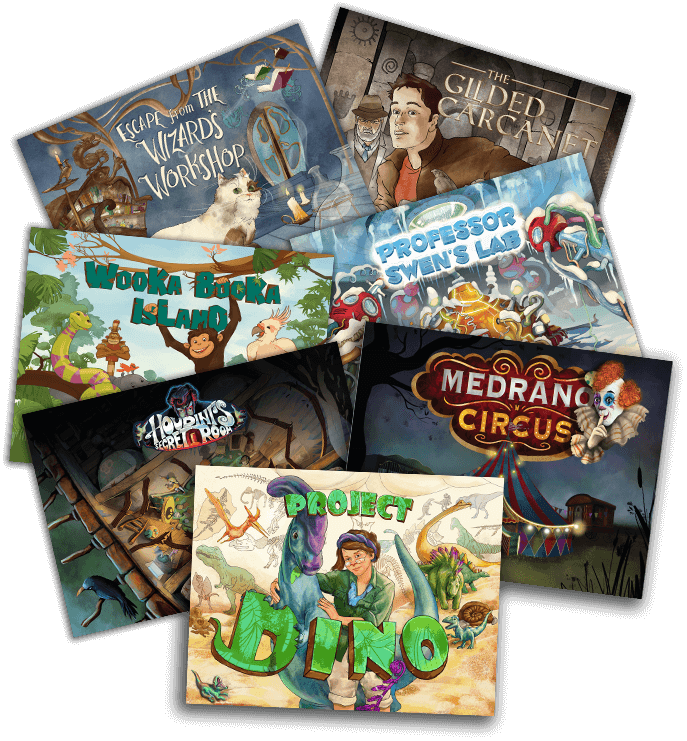 What's Included in the Bundle
With the Legacy bundle, not only do you get access to all of our current games, but you also get every new game we create – for free! That's right, as a Legacy customer, you'll never have to pay for future games. Be sure to act fast, as the price of the bundle will increase with every new game release. Start your escape room legacy today and enjoy a constant stream of new and exciting games!
Аs an added bonus, we're including a wide range of free extras to enhance your experience. With invitations, posters, masks, hats, and even a card game, you'll have everything you need to create a fully immersive escape room experience. Plus, with variations for all major holidays, you can keep the fun going all year round.
What People Say About Us?
5.0 out of 5 stars (based on 107 reviews)
Good but a little bit hard.
The best part was figuring out the different challenges that get you through the level but the hardest part was figuring out problems 2 and 3 it took me forever to figure it out those two problems but it was so much fun!!
Teamwork!
Just did Professor Swen's for a Girl Scouts meeting and it was a hit! Great teamwork and a great message!
Esperienza top
Ho proposto questo gioco a un gruppo di 3 bambine di 6 anni. È stato bello vederle ragionare insieme sulle possibili soluzioni e ancora più bello quando, prima di andar via, mi hanno chiesto di giocare ancora. Da master non ho avuto difficoltà a seguire il gioco, parti grafiche ben fatte e accattivanti.